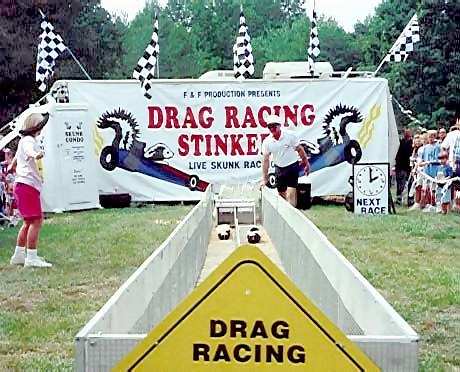 Retired after 13 years
Thank you to all
F & F Production
10 Gaskin Lane
Jackson NJ 08527
(732) 928-5853

Drag Racing Stinkers

Bring the Sweet Smell of Success to your Event
One of a kind, the Drag Racing Stinkers is the only live skunk racing attraction. The newest and most popular show on the fair and festival circuits. The Drag Racing Stinkers create fun, laughter and great family entertainment by doing what they do naturally..... running for food, that is.
Your audience will delight in the fun and entertainment surrounding each show as they become the cheerleaders, race officials and cleanup crew. The kids will enjoy meeting the skunks following each performance. Clothes pins are available on site.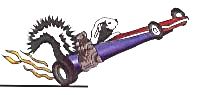 The Drag Racing Stinkers is a fully self contained unit designed to create the atmosphere of a drag race track. The unit consists of a 50-foot racetrack, a major display of black & white flags, large colorful backdrop, and music.
The Drag Racing Stinkers provide up to five 20 minute performances daily.
Owner and creator, David Feimster, has no trouble finding hotel accommodations for his famous dragsters. They travel in their own skunk Condo
No racing silks needed for these stinkers, they were born with a racing strip down their backs.
If you would like to see the Drag Racing Stinkers at an event near you, contact your local, county or state fairs & festivals and let them know about us.

For information or booking contact:
David Feimster
F & F Production
10 gaskin Lane
Jackson NJ 08527
(732) 928-5853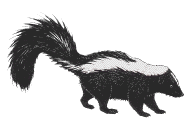 Robinson &

Curuso
Email: skunkrace@cheerful.com